V.R. & Associates
Event Management
V.R. & Associates
provides our clients with turn-key event production & management services with a comprehensive 4 - stage plan that details:

* Strategic Planning
* Concept Development
* Implementation/Execution
* Evaluation & Recommendations

We are your partner who believe in excellence and offer exceptional planning and customer service, superior project and program management as well as flawless execution/implementation.

- Leave All The Details To Us - is our motto.

We enable YOU to do what you do best: - take care of your business and leave all the details to us ....while we take care of you!
Let us help you with all your special events:
- Product Launchings
- Ride & Drive
- Corporate/ Employee/Sales Meetings
- Grand Openings
- Corporate Events
- Executive Retreats, Seminars & Workshops
- Corporate Outings, Golf Tournaments
- Opening and Closing Ceremonies
- Awards Banquets
- Fund Raising Events & Galas
- Private Parties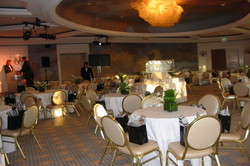 Volvo "The Influencers" - The Beverly Hills Hotel
Courvoisier Reception - The Renaissance Washington D.C.